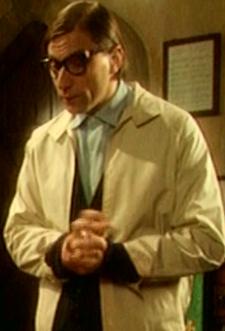 "I'm not married and I don't get out much"
Cecil Harrington Caprin is a character on The Vicar of Dibley. He was played by Simon McBurney.
About Cecil
He is the choir master for the Dibley choir, and has been doing the job for ten years.
He was the only auditioner for the Dibley choir on the first run of auditions before a slight revision to the posters advertising the auditions were made to mention a chance of appearing on Songs of Praise, though he came to ask about the position of the choir master.
While he can't sing and is usually alone, he impressed Geraldine with his ability to orchestrate, and later helped in auditions find people for the choir as a judge after being hired as the choir master.
He later conducted the choir in the service dedicated to animals, he has no lines in the episode, though we see he has a small pet mouse, which he kept in his jacket pocket.
He is seen most of the time, conducting the choir in a 'Hip' fashion, e.g. spinning, dancing, pulling faces, in his debut episode, Alice had to avoid being accidentally hit by him when he tries out for the choir master position.
Appearances